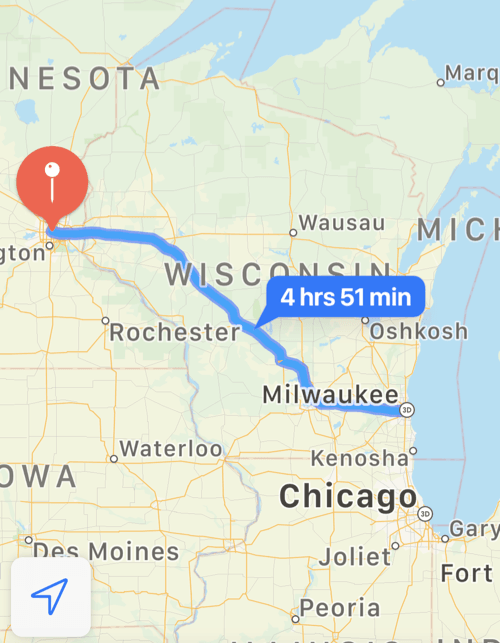 That was all for Madison and next up was Minneapolis. First up on our plan for Minneapolis was the Stone Arch Bridge. The stone arch bridge crosses the Mississippi River in Minneapolis, Minnesota. It is the only arched bridge made of stone on the entire Mississippi River. It is also the second oldest bridge on the river next to Eads Bridge.
From this bridge we could see St. Anthony falls. The falls of St. Anthony is the only true waterfall on the Mississippi river. It moved upstream (due to erosion) at a rate of about 4 feet per year until in the 1870s when it was stabilized.
Our next destination was the Minneapolis Sculpture Garden. My favorite sculpture we saw was : A horse seemingly made out of wooden sticks, but actually made out of metal. I thought that was so cool, because without the description, I probably would have never known it wasn't wood.
That was all we had time for that day, sadly. The next morning we wanted to go play tennis, but the court conditions were so awfully horrible we went straight to the Russian Museum.
The Russian Museum is the only museum in North America devoted entirely to Russian art and culture. There we viewed the 37 painting exhibit of Soviet Ukrainian paintings. There were paintings depicting Lenin, Stalin, and Khrushchev, alongside collective farmers, soldiers, sailors, road construction workers, fishermen, and more. Many of the paintings in the exhibition have never been shown before in the United States! Then we went to the gift shop, where I bought a book about Anastasia and the Romanov family.
I wasn't too excited to leave because the drive to our next stop would take 7 hours, our longest drive next. But we had to do it, so we climbed into our car and started driving.