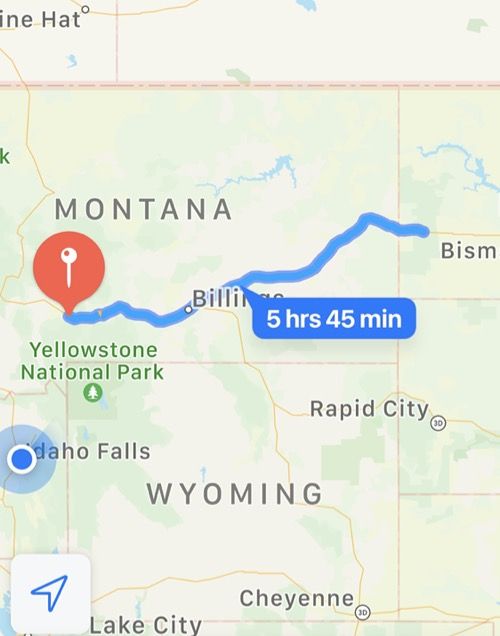 Montana is known for its mountains, so naturally we did a lot of hiking. The First Montana mountain we hiked was the College M. The "M" on the mountain had been created by Montana State University students in 1915.
We looked at it from down below, and then walked the 2.4 mile trail. When we walked right up to the M on the top of the mountain, we couldn't even tell that it was a letter! It just looked like a bunch of white blocks. Only when we descended did we see it from below. That's all we did that day, because most of our day had been spent on the road.
But the next day was more exciting. We decided to go to Gallatin Canyon. We bought a rib eye steak to grill. While we were waiting for it to cook we went down to the river. There was a boulder close to the bank, and we used small rocks located between it and us to get there.
It wasn't too far away, so it was easy to cross the 5 or 6 rocks. We took pictures, and then the steak was cooked. It was delicious! After eating we took another hike. It was a long, steep, and hard hike but in the end it was worth it. From the edge of a cliff we reached we saw mountains and many trees. The river could also be seen. It was a beautiful landscape!!
Our last Day In Montana was probably the best. We went to Hyalite Reservoir. We hiked 2 trails there. The first led to Palisade Falls. It wasn't a long one, and we reached the mounds of rock surrounding the falls quickly. The waterfall was tall and not wide, and the mist form the water sprayed at me in the wind. I love waterfalls, so this was so fun! Before the second trail we ate lunch by the lake.
The water glistened in the sunlight, the sun reflecting off the surface to create a beautiful golden glow. Then we went on to the second trail. Beautiful fields of tall, lush green grass and flowers of all colors of the rainbow greeted us.
The scenery then switched to a dark forest with beams of light struggling to shine through the leaves. The end destination of this trail was a huge boulder with carved-in names, hearts, etc. We carved our initials, V for Val, D for Dasha, A for Ann, and S for Stas. Then we went to our hotel to swim in the pool.